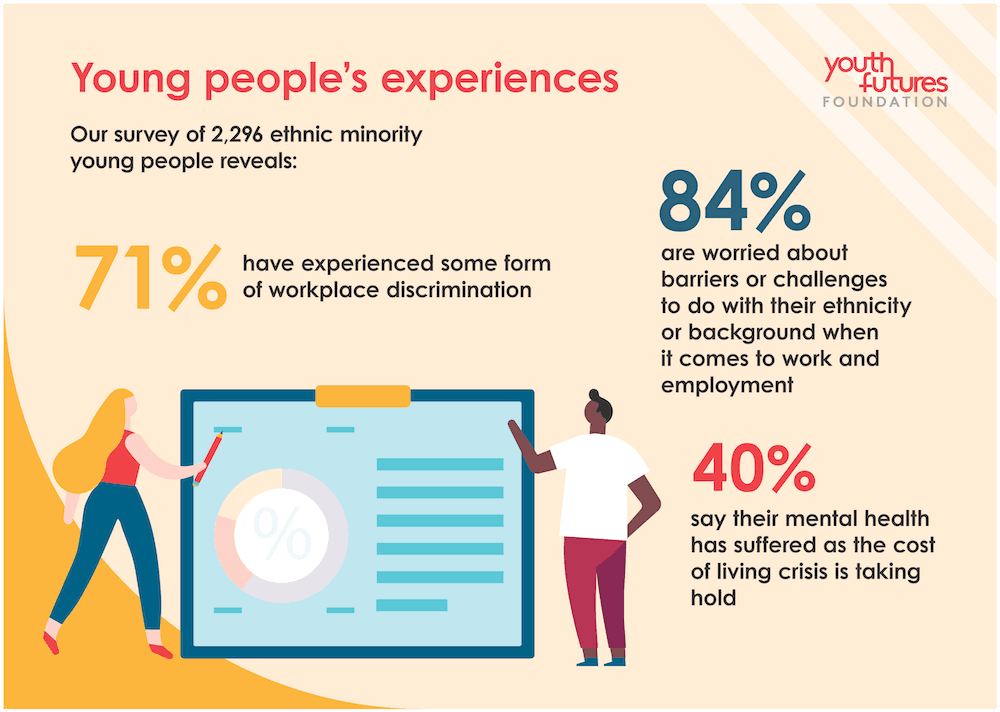 November 2022
We recognised the need for understanding the impact of discrimination at work as well as rising cost of living for young people from an ethnic minority background.
According to our independent survey of 2,296 ethnic minority young people, seven in 10 (71%) have experienced some form of workplace discrimination. Almost half (46%) of young people from ethnic minority backgrounds have experienced discrimination when dealing with customers or clients at work, while two in five have experienced it when applying for a job (37%) and/or at a job interview (36%). With the cost of living crisis taking hold, two in five (40%) say their mental health has suffered.
Barriers to achieving employment goals
Young people from Asian backgrounds were more likely to select Mental health as a barrier to achieving their goals. Young people from Black backgrounds were more likely to highlight the inability to afford essentials compared to other backgrounds.
Impact of COVID-19
For all ethnic groups, the pandemic affected their mental health, education, friendships and financial decisions.
READ MORE
Cost of living crisis
The cost of living crisis has had a detrimental impact on their mental health as well as their ability to afford essentials.
READ MORE
Workplace discrimination
Many young people have faced discrimination when making a job application, at interview, and when trying to engage with clients.
READ MORE